eBdesk Smart City

Nearly half of the world population has migrated to the cities in 2013. This urbanization brings other issues such as population explosion, high cost of living, pollution, social conflict, rising of crime rates and the higher cost in the provision of public infrastructure.
By using a technology led and people centred approach, a smart city comes to life. A smart city has smart citizens, who make practical and efficient use of technology to navigate everyday life. Technology enables to support city services for the well-being of its inhabitants. Internet, automation, sensors, IoT (Internet of Things), is applied to simplify and expedite the flow of city dwellers, information, goods, education and economy. A smart city is smart citizen centric.
SMART CITIZEN
Smart citizen is a project to utilize technology to support activities of the population in terms of information, transportation, employment, trade, food, communications, and everyday activities to develop smart cities.
A smart city starts with a smart citizen. Citizen participation in urban policy and strategy making is vital to the buildings of a smart city. Smart citizen plays the important role in society to educate oneself to be an individual who consciously supports the advancement of a modernistic and progressive city by being a proactive citizen. Smart citizens are the nucleus for bigger smart projects, such as smart business, smart farming and eventually, smart governments.
SMART BUSINESS
Doing business in the smarter, more time consuming and efficient way. Local e-commerce, local C2C, B2C and B2B portals, job and recruitment market, property and automotive market will be consolidated to make business hassle-free.This will help both producers and consumers to thrive in commercial operation by saving their money, energy and time. Consequently, they will be able to minimize input and maximize output.
SMART GOVERNMENT
Smart government encompasses smart education, healthcare and sanitation, smart utilities and infrastructure, smart business and economy, smart security, smart farming and agriculture. A smart governance surpasses a normal governance in many ways. Citizens will be able to receive quality education for all academic levels, enjoy great healthcare, have clean sanitised public spaces, reap benefits from optimised commercial operations and feel safe in their cities, especially those who women, old people and children, along with many other advantages.
By combining the use of Intelligence Media Management, Intelligence Perception Analysis, Intelligence Profiling System and Intelligence Portal Data, a smart government will be able to make full use of the latest technologies to form a synergistic and a sustainable environment for citizen, governments and communities.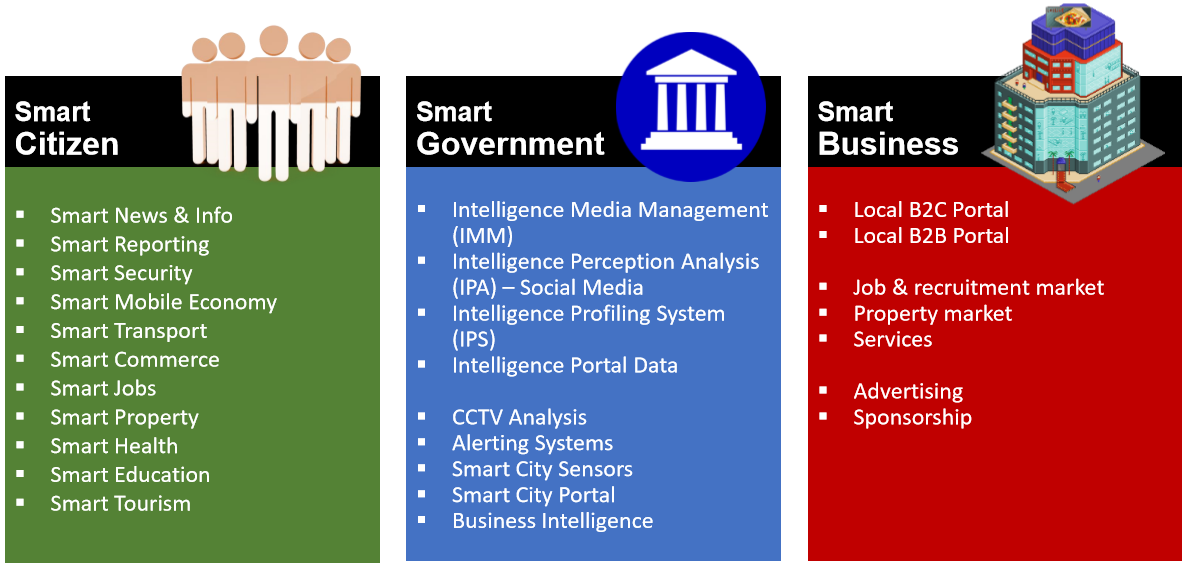 Please download the solution brochure here